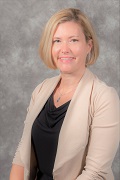 Amanda Clark
Visiting Assistant Teaching Professor
---
Office: PCA 354B
Phone: 305-348-8490
Email: amaclark@fiu.edu
Biography
Amanda D. Clark, PhD, is a Visiting Assistant Teaching Professor with the Department of Public Policy and Administration in the Steven J. Green School of International and Public Affairs at Florida International University.

Dr. Clark's research focuses on social movements, governance, and the U.S. policy process. Her recent work has focused on social equity in local public administration, including examining how austerity policies impacted U.S. COVID-19 policy. Dr. Clark has examined the framing strategies of social movements including Black Lives Matter and the nonprofit community in Flint, MI in response to the water crisis. She is the author of Framing the Fight Against Human Trafficking: Movement Coalitions and Tactical Diffusion published by Lexington Books in 2019. Her recent articles have been published in academic outlets including Research in Social Movements, Conflicts and Change, Administrative Theory & Praxis, Urban Affairs Review, and International Area Studies Review.

She is active in the American Society for Public Administration (ASPA), the Public Management Research Association, and the Public Administration Theory Network, where she is a member of the Board and assistant treasurer.

Dr. Clark holds a Ph.D. in political science from Kent State University in Kent, OH, an MPIA from the Graduate School of Public and International Affairs at the University of Pittsburgh and a bachelor's degree in International Business and French from Marietta College in Marietta, OH. Prior to her work in higher education, Dr. Clark worked in the international trade industry as a licensed customs broker. She also recently served at the Palm Beach County Supervisor of Elections Office in 2020, where she ran early voting.